WITH A SUCCESSFUL BALANCE, COLOMBIA 4.0 AIMS FOR THE CONSOLIDATION OF THE DIGITAL CONTENT INDUSTRY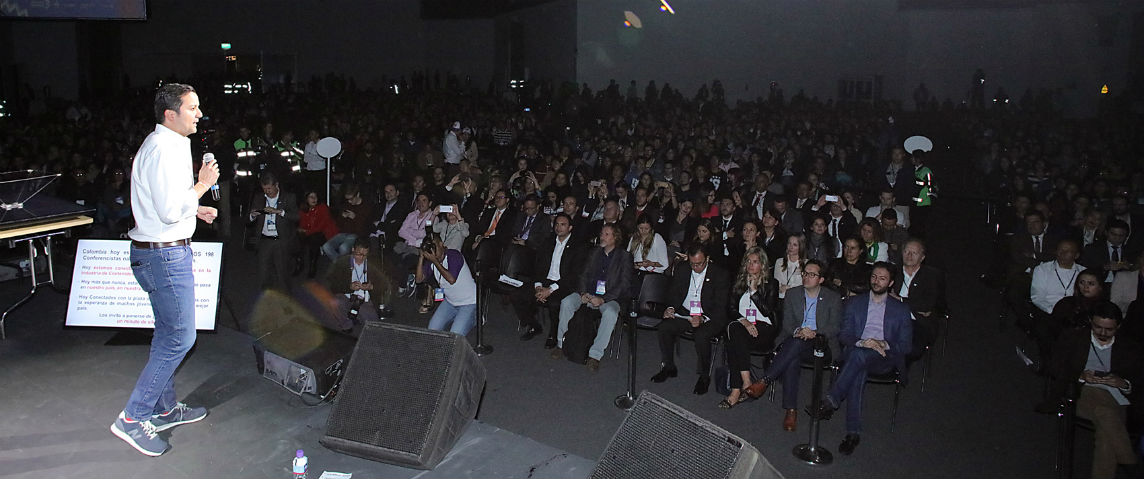 Bogotá, 14 de octubre de 2016. La cumbre de contenidos digitales más importante del país, Colombia 4.0, cerró su sexta versión con un balance exitoso. Cerca de 60.000 participantes, entre presenciales y transmisiones en vivo, hicieron parte de los 213 talleres, paneles y conferencias en temas como Animación, Medios, Monetización y Publicidad Digital, Web, Emprendimiento, Desarrollo Móvil, Medios, Videojuegos, Música, entre otros.
Los asistentes se capacitaron y actualizaron en los diferentes contenidos digitales gracias a 246 conferencistas, de los cuales 104 fueron internacionales, de países como Rumania, Bélgica, Finlandia, Bulgaria, Hungría, Estados Unidos, Brasil, Japón, entre otros.
"Colombia 4.0 logró no solamente evolucionar, sino convertirse en un escenario al cual todos quieren venir. Lo más importante fue que premiamos el talento en contenidos digitales, en software y también a los 'makers', que son una nueva oportunidad para seguir innovando en el país", indicó el Ministro Luna.
Los niños tuvieron su espacio en la Zona Kids, donde 1.375 menores participaron, entre otros, en talleres de robótica y programación.
En esta cumbre también hubo espacio para los negocios. Se llevó a cabo el Business Day (encuentro de emprendedores TIC con clientes potenciales), que generó expectativas de negocio por más de $2.000 millones de pesos.
Así mismo, se realizó la rueda de negocios Colombia 4.0-Softic, en la que se hicieron 900 citas de negocio, entre 68 compradores internacionales y 92 exportadores colombianos de la industria de Tecnologías de la Información (TI) y contenidos digitales.
En el evento, se calcula que se generaron expectativas de negocio por alrededor de US$40 millones de dólares, lo que está en línea con la campaña 'Colombia Bring IT On', que busca internacionalizar este sector de la economía.