KATIA CÁNEPA
Colombia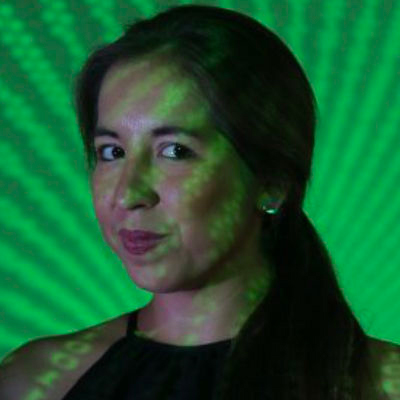 KATIA CÁNEPA
Profile:
Katia has a post-doctorate from the MIT Media Lab, Phd from the PUC Rio and the Baptist University of Hong Kong and a master's degree from the PUCRio. She speaks spanish, portuguese, english and chinese. In recent years she has given academic lectures and exhibited his creations in France, Greece, Holland, Hong Kong, Japan, Philippines, Thailand, Scotland, Brazil, United States.
Katia is a technological beauty designer. Inspired by invisible computing, the increase of human abilities and magic, she proposes new ways of interacting with the world. Her invention called "Beauty Technology", integrates technology and cosmetics applied directly to the skin, nails and hair; in order to transform the surface of the body into an interactive platform. Conductive makeup, Tech Nails, FX e-makeup and Hairware are some of their beauty technologies. Imagine that you blink and turn on the lights, move your nails and open the door, touch your hair and record a conversation.
For this initiative, the MIT Technology Review in Spanish awarded her the prize of "Innovators under 35 years Peru 2016". She is the only woman in the fourth generation of Peruvian winners who stood out among more than 300 candidates. She was also recognized as the "Innovator of the Year".