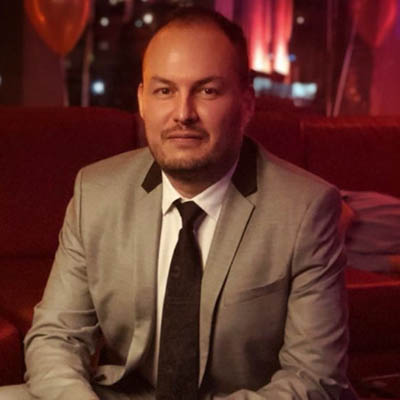 Mauricio Buriticá
Founder, B Smart Mauricio Buritica is a serial entrepreneur. Passionate about inventing and developing new solutions and products, he has founded more than five companies and has worked with different Innovation teams supporting large companies and ventures. The USPTO recently granted him his first patent as a utility model. His greatest passion is developing technology products that disrupt different industries.
Professor of Plasticine Modeling doing Stop Motion, and animatronics. In 2002 he founded his first Start-up "ElRoperodeMaur.com"; in 2003 he created "Tuboletamasbarata.com"; and in 2008 he founded BSmart, a Domotics and Inmotics company that today has clients such as Amarilo, Marval, Constructora Bolívar, among others. In 2016, he sold part of his company and formed an innovation laboratory called BMakers and joined the TBWA team as VP of Innovation working for 3 years with brands such as Adidas, Jumbo, Nissan, Mercado Libre, Avon, among others.
In 2017, he founded Battle Racing, the first interactive Kart track with powers like in video games. In 2019, he created as a spinoff BlueBuilding, the first Machine Learning, and Facial Recognition system, replacing traditional surveillance to lowering administration costs. In 2020, facing the crisis posed by COVID19, he put together the abilities of a large group of BMakers and developed Vita Tech: a project that developed a low-cost mechanical invasive ventilator that could be manufactured locally and thus provides a solution to the health care crisis in the hospitals.
miércoles, 02 de diciembre de 2020 11:15
Panel: About iOT Robotics