ICT AND CULTURE MINISTRIES PRESENTED AWARDS TO THE CREA DIGITAL 2016 WINNERS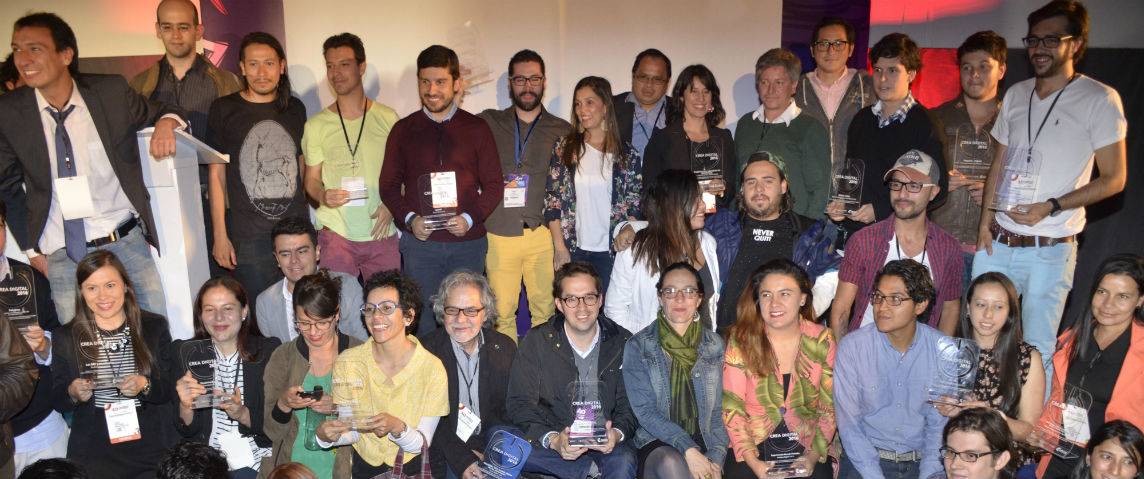 Bogotá, 14 de septiembre de 2016. Los Ministerios de Tecnologías de la Información y las Comunicaciones (TIC) y de Cultura, premiaron con una bolsa de $1.800 millones de pesos a 21 pequeñas y medianas empresas colombianas, para la creación de contenidos digitales inéditos en distintas categorías.
"Felicitamos a todos los participantes y a los ganadores, siéntanse muy orgullosos porque recibimos 215 propuestas en las cuatro categorías. Gracias a su esfuerzo, proyectos como estos tienen continuidad", señaló el Viceministro General TIC, Juan Sebastián Rozo.
Este año además de animación, e-books y videojuegos, se abrió una nueva categoría llamada Cultura de Paz, que busca premiar a creadores de contenidos digitales de diferentes medios y plataformas, interesados en aportar a la convivencia pacífica, la paz con justicia social y la reconciliación.
Esta quinta entrega de Crea Digital, que en esta ocasión se hizo en el marco de Colombia 4.0 y contó con la participación de Christopher Houghton, cocreador y coproductor ejecutivo de Disney Televisión Animation, quien dictó una conferencia y felicitó a los ganadores, invitándolos a continuar su carrera. "Muchas veces lo que detiene a los artistas es la inversión, ojalá en mi país recibiéramos algo así", afirmó.
El Viceministro Juan Sebastián Rozo recibió de manos de Argemiro Cortés Buitrago, director de comunicaciones del Ministerio de Cultura, un reconocimiento por el apoyo del Ministerio TIC a la industria cultural a través de Crea Digital. "Este es un reconocimiento para todos los ganadores. Un mensaje para que todos crean en sus proyectos. Sáquenlos adelante y háganlo en honor de quienes no han tenido la oportunidad de estar aquí", destacó el Viceministro Rozo.